How is it defined as a military signal jammer? In fact, the military mobile phone signal jammer is derived from the hardware upgrade of the ordinary mobile phone signal jammer, and the workmanship is more precise. In addition, a crash test is also required, and the casing needs a machine with more wear resistance, heat resistance, shock resistance, faster heat dissipation, and continuous standby for more than 72 hours. General-purpose aircraft are used in important test sites for troops, where they perform important tasks and need to be powered on for a long time.
This high power military camouflage jammer with LED display is dustproof, shockproof and dropproof! It adopts external AC power supply or built-in battery for power supply. It also supports external battery box power supply or generator power supply, and the power supply mode is flexible! The equipment adopts a modular design, and each component can be directly plugged and replaced. Among them, five high-power shielding modules can be customized and combined arbitrarily. The equipment control methods are flexible and diverse, which can be operated and controlled directly on the machine or through an external wiring control box. Not only can it interfere with GSM, 3G, 4G and 4G LTE signals, but it can also interfere with GPS, WiFi and Lojack signals you choose in your configuration. The interference radius can be up to 20 meters.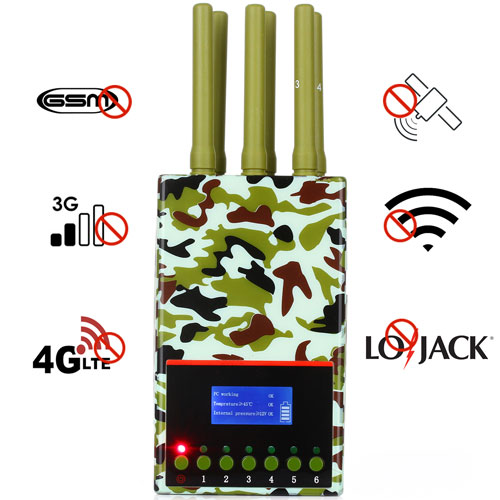 Technical parameter
Shielding range: radius 10~20 meters (-75dBm, outdoor open environment, depending on the distance of surrounding base stations) Total power: 3 watts
Battery capacity: 4000mA/h
Weight: 0.88kg
Dimensions: 145 x 83 x 52mm (not including antenna)
Product advantages:
LCD display: Displays normal operation, battery, according to charging, according to working temperature, according to more convenient control equipment to use.
Cooling fan: Dual fans are used for heat dissipation, the heat dissipation is more uniform, the effect is better, and the interference performance is more stable.
It can be used directly in the car, with a car charger and an AC charger.